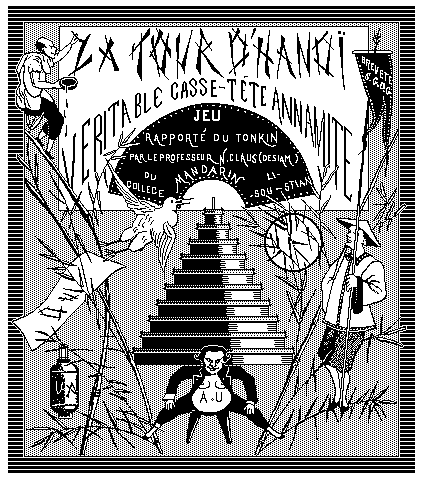 THE TOWER OF HANOÏ
AUTHENTIC BRAIN TEASER OF THE ANAMITES
A GAME BROUGHT BACK FROM TONKIN
BY PROFESSOR N. CLAUS (OF SIAM)
Mandarin of the College of Li-Sou-Stian!

(From the box cover of the original Tower of Hanoi puzzle.)


---
Original Instructions

See the two-page instruction sheet that accompanied the Tower of Hanoi puzzle marketed in 1883 by Professor N. CLAUS (DE SIAM), an anagram pseudonym for Professor Édouard LUCAS (D'AMEINS).
In French: A scanned graphic of the original document. Difficult to read.
In English: An html version of my translation.



My Papers

Download your own copies of papers I have written on various aspects of the Tower of Hanoi, including an extensive bibliography of 369 published works on this topic.
---
This page is maintained by Paul K. Stockmeyer. Select my name to see my home page.


The URL for this page is http://www.cs.wm.edu/~pkstoc/toh.html
Last updated 27 August 1998