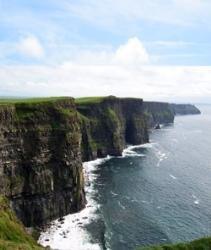 Cliffs of Moher (www.cliffsofmoher.ie/)
Situated in County Clare and bordering the Burren Area, the Cliffs of Moher are one of Ireland's most spectacular sights. Standing 230 metres above the ground at their highest point and 8km long, the Cliffs boast one of the most amazing views in Ireland. A walk along the cliffs is not to be missed. Those with a head for heights can easily walk to the edge of the cliff and view the Atlantic Ocean below.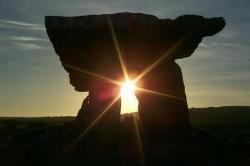 The Burren (www.theburrencentre.ie/)
Lies south of Galway in County Clare, Ireland. The name Burren is from the Irish bhoireann meaning a stony place. Its formation has lain unspoiled since the ice-age and is composed of karstic limestone, the largest area of such in Western Europe. This area has some of the finest archaeological megalithic tombs in Ireland, if not in Western Europe. In this area alone there are more than 60 wedge tombs, the densest concentration in Ireland.