The Ring of Kerry (www.ringofkerrytourism.com/)
One the most famous and popular road circuits for tourists in the South West of Ireland, the Ring of Kerry, traverses the coastline of the Inveragh Peninsula with a great many tourist sites along the way. Dramatic panoramas, majestic mountain shapes, ancient sites and towns are found along the winding route of the N70 through the southern tip of Kerry known as the Ring of Kerry.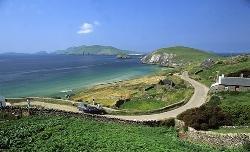 Dingle Peninsula (www.dingle-peninsula.ie/)
Europe's most westerly town, sheltered by hills on three sides, is one of the world's natural beauty spots, and is home to an active fishing fleet and resident dolphin FUNGI. It has a diving centre, sailing club, art galleries, traditional craft and excellent accommodation. Dingle has many eccentric, colourful pubs and fine restaurants, offering entertainment and traditional Irish music unique to the area.