Held in Conjunction With 34th IEEE International Parallel & Distributed Processing Symposium
May 17-21, 2021
Virtual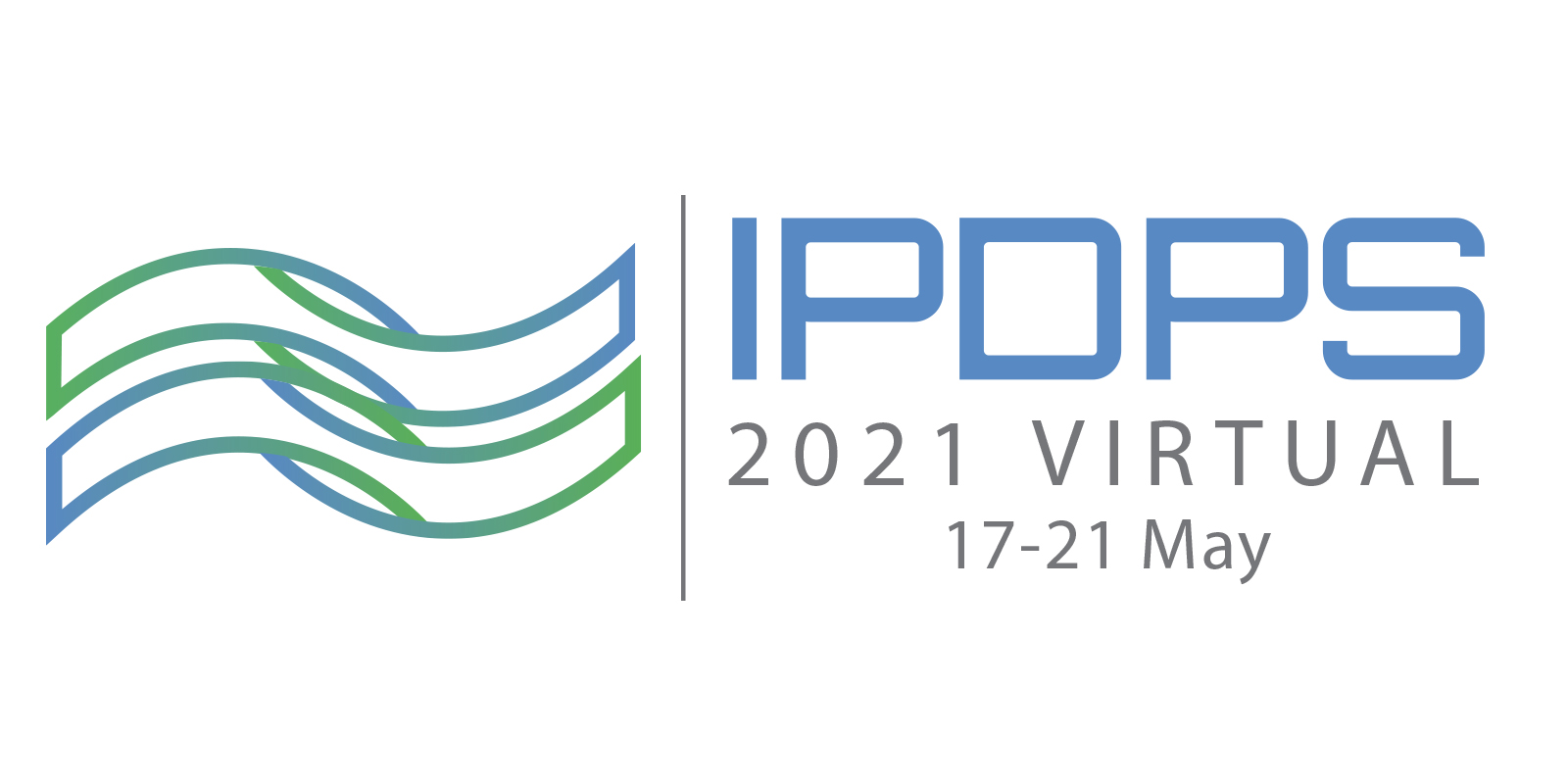 Overview
The 26th HIPS workshop, to be held as a full-day meeting at the IPDPS 2021 conference in Portland and as virtual workshop, focuses on high-level programming of multiprocessors, compute clusters, and massively parallel machines. Like previous workshops in this series — established in 1996 — this event serves as a forum for research in the areas of parallel applications, language design, compilers, runtime systems, and programming tools. It provides a timely forum for scientists and engineers to present the latest ideas and findings in these rapidly changing fields. In our call for papers, we especially invite papers demonstrating innovative approaches in the areas of emerging programming models for large-scale parallel systems and many-core architectures. An additional emphasis this year will be on heterogeneous compute capabilities and deep memories to encourage new developments in programming models for high performance systems.
---
Topics of Interest
Topics of interest to the HIPS workshop include but are not limited to:
High-level and domain-specific programming systems
Languages and Compilers for post-Moore's-Law (or Post Von Neumann)
Language/compiler support for AI/ML and Cybersecurity/Privacy (e.g., ML-based auto-tuning)
Task Based Programming Systems
(Scalable) programming tools and tools for power and performance analysis, modeling, monitoring, and debugging and core correctness
Compiler analysis and optimization techniques
OS and architectural support for parallel programming and debugging
Software and system support for extreme scalability including fault tolerance and power-aware HPC
Programming environments for heterogeneous multicore systems and accelerators such as GPUs and FPGAs
Solutions for programming paradigms for GPUs from different hardware vendors
Exploring dynamism in applications and system resources
Performance portability
Efforts for improving the sustainability of scientific software
Languages and runtime support for multi-science/coupled codes, including but not limited to ensemble computing and UQ
New programming languages and constructs for exploiting parallelism and locality
---
Registration
Our registration is open!! Welcome to HIPS@IPDPS'21!!
Please use this link for your registration: https://forms.gle/QDpDPumyU7qUVeBs9
We assume you have registered to IPDPS (workshops); if you have any trouble with the payment, please contact us. Registration via this link does not add any further costs. This registration aims to estimate the number of participants and share workshop information only.
Reminder about IPDPS 2021 registration: All papers in the workshop must have one author registered at full (non-student) fee. It is assumed that all attendees to the workshop will be registered with IPDPS 2021 to give access to the proceedings and to all live events and recorded sessions of the conference.
---
Program (Date: May 17th, 2021, Pacific Time is used)
07:00 - 07:05 Welcome Julian, Bin
07:05 - 08:00 Keynote: oneAPI and Data Parallel C++

Speaker: Dr. Kinsner, Michael from Intel

Abstract: Silicon trends continue to motivate increasing specialization of compute architectures, enabling performance on classes of workload that map efficiently to a device. The increasing variety of architectures, coupled with the mixing of architectures in heterogeneous systems, leads to significant challenges for developers forced to program using a variety of disjoint languages and tooling. oneAPI and Data Parallel C++ are open solutions that strive to unify programming models, languages, and workflows across heterogeneous architectures and systems, while still providing access to the performance of each architecture.

This talk will overview the goals and approach of oneAPI, and will dive into Data Parallel C++, a direct programming solution based on modern C++ and the SYCL standard from The Khronos Group. The talk will cover some aspects and lessons learned relative to portability, and challenges encountered when mapping the single program multiple data (SPMD) programming model to hardware which isn't a perfect fit for the abstraction.

Bio: Mike Kinsner is a Principal Engineer at Intel Corporation developing languages and parallel programming models for a variety of compute architectures. He is one of the architects of Data Parallel C++. He started his career at Altera, working on high level synthesis for field programmable gate arrays, and still contributes to spatial programming models and compilers. Mike is an Intel representative within The Khronos Group standards organization, where he works on the SYCL and OpenCL open industry standards for parallel programming. Mike holds a Ph.D. in Computer Engineering from McMaster University, and recently co-authored the industry's first book on SYCL and Data Parallel C++.

08:00 - 08:30 Break
08:30 - 10:00 Portability session

Developing medical ultrasound beamforming application on GPU and FPGA using oneAPI
Yong Wang, Yongfa Zhou, Scott Wang, Yang Wang, Qing Xu and Chen Wang
Speaker 1: Qi (Scott) Wang (scott.wang@intel.com) is the solution architect from Intel and received the BE and MS degrees in electronic and electrical engineering from Nanyang Technological University, Singapore, in 1998 and 2001. His research interests include heterogeneous compute architectures and their applications in medical imaging systems such as Ultrasound, Endoscopy and Geonomics data processing systems.
Speaker 2: Yong Wang (yong4.wang@intel.com) is a software engineer in Intel Flex Solutions team. He received BE and MS degrees in mechanical engineering from China University of petroleum (Beijing) and Dalian University of Technology, in 2016 and 2019, respectively. His work focus on Parallel computing, GPU programming and Linux.
Evaluating CUDA Portability with HIPCL and DPCT
Zheming Jin
Speaker: Zheming Jin, Oakridge National Labratory
Beyond Fork-Join: Integration of Performance Portable Kokkos Kernels with HPX
Gregor Daiß, Mikael Simberg, Auriane Reverdell, John Biddiscombe, Theresa Pollinger, Hartmut Kaiser and Dirk Pflüger
Speaker: Gregor Daiß is working at the University of Stuttgart in the department of Scientific Computing. His main research interests include high-performance-computing on both CPU and GPU, task-based programming, and HPC applications.

10:00 - 11:00 Break
11:00 - 12:30 Parallel efficiency

An Efficient Approach for Image Border Handling on GPUs via Iteration Space Partitioning
Bo Qiao, Jürgen Teich and Frank Hannig
Speaker: Bo Qiao (Affiliation: University of Erlangen–Nuremberg) received his B.Sc. degree from Shanghai Maritime University, China, and his M.Sc. degree from Eindhoven University of Technology, The Netherlands. Since 2017, he has been a Ph.D. student in the department of Computer Science at the University of Erlangen–Nuremberg. His research interests include domain-specific languages, image processing, and general-purpose programming using GPUs.
CUDAMicroBench: Microbenchmarks to Assist CUDA Performance Programming
Xinyao Yi, David Stokes, Yonghong Yan and Chunhua Liao
Speaker:Xinyao Yi is a third-year Ph.D student at the University of North Carolina at Charlotte. Her area of research is in parallel programming and compiler technologies for heterogeneous architectures for high-performance computing. Her recent research work has been focused on the development of the OpenMP open-source compiler and optimization strategies for heterogeneous memory systems.
Understanding Recursive Divide-and-Conquer Dynamic Programs in Fork-Join and Data-Flow Execution Models
Poornima Nookala, Zafar Ahmad, Mohammad Mahdi Javanmard, Martin Kong, Rezaul Chowdhury and Robert Harrison
Speaker: Poornima Nookala is a PhD candidate in the Department of Computer Science at the Illinois Institute of Technology and a Senior Research Support Specialist at Institute of Advanced Computational Science (IACS) at Stony Brook University. Her research interests include parallel programming models and runtime systems for extreme-scale supercomputing systems, computer architecture, cloud computing systems, data-intensive computing, and big-data sciences. She is particularly interested in bridging the gap between software and hardware layers for enabling both functionality and performance, as well as questioning assumptions made by the software stacks we use today.

12:30 - 13:00 Break
13:00 - 14:30 Performance characterization

Measuring Cache Complexity Using Data Movement Distance (DMD)
Donovan Snyder and Chen Ding
Speaker: Donovan Snyder of University of Rochester
Combining Static and Dynamic Analysis to Query Characteristics of HPC Applications
Aaron Welch, Oscar Hernandez, and Barbara Chapman
Speaker: Aaron Welch is a PhD student at the University of Houston. Aaron's research has spanned across a wide variety of topics including Partioned Global Address Space languages and RDMA networks, compilers, memory management, and code analysis.
Analysis of Cache and CPU Metrics in a Multithreaded System Using Purchasing Power Theory
Yectli Huerta and David Lilja
Speaker:Yectli Huerta, University of Minnesota Supercomputing Institute

14:30 - 15:00 Open discussion
15:00 Farewell
---
Important Deadlines
Full papers (10 pages max) and short papers (4 pages max)
Submission deadline: 24 January 2021 (Extended to 7 February 2021)
Author notification: 26 February 2021
Camera-ready papers: 15 March 2021 (Extended to 31 March 2021)
Submission
Please submit papers through this Link
Paper Style
The HIPS paper style is identical to the IPDPS paper style. Submitted manuscripts may not exceed 10 (for full papers) or 4 (for short papers) single-spaced double-column pages using 10-point size font on 8.5x11 inch pages (IEEE conference style), including figures, tables, and references.
Paper Templates
---
Committees
Workshop Co-chairs
Steering Committee
Rudolf Eigenmann,University of Delaware - Newark, DE
Michael Gerndt, Technische Universität - München, Germany
Frank Mueller, North Carolina State University - Raleigh, NC
Craig Rasmussen, University of Oregon - Eugene, OR
Martin Schulz, Technische Universität - München, Germany
Program Committee
Tekin Bicer, Argonne National Laboratory, USA
Rupert Ford, STFC, UK
Anja Gerbes, Goethe-Universität Frankfurt am Main, Germany
Thomas Gruber, Friedrich-Alexander-University of Erlangen-Nürnberg, Germany
Gokcen Kestor, Pacific Northwest National Laboratory, USA
Sarah Knepper, Intel, USA
Martin Kong, University of Oklahoma, USA
Seyong Lee, Oak Ridge National Laboratory, USA
James Lin, Shanghai Jiao Tong University, China
Wenjing Ma, Chinese Academy of Sciences, China
Sandra Mendez, Barcelona Supercomputing Center, Spain
Bernd Mohr, Jülich Supercomputing Center, Germany
Carlos Osuna, MeteoSwiss, Switzerland
Ivy Bo Peng, Lawrence Livermore National Laboratory, USA
Alexis Perry-Holby, Los Alamos National Laboratory, USA
Junqiao Qiu, Michigan Technological University, USA
Probir Roy, University of Michigan-Dearborn, USA
Alina Sbirlea, Google, USA
Pengfei Su, University of California Merced, USA
---
History
| Conference | Date | Location |
| --- | --- | --- |
| 25th HIPS 2020 | May 18, 2020 | New Orleans, Louisiana USA |
| 24th HIPS 2019 | May 20, 2019 | Rio de Janeiro, Brazil |
| 23rd HIPS 2018 | May 21, 2018 | Vancouver, British Columbia, Canada |
| 22nd HIPS 2017 | May 29, 2017 | Orlando, FL, USA |
| 21st HIPS 2016 | May 23, 2016 | Chicago, IL, USA |
| 20th HIPS 2015 | May 25, 2015 | Hyderabad, India |
| 19th HIPS 2014 | May 19, 2014 | Phoenix, AZ, USA |
| 18th HIPS 2013 | May 20, 2013 | Boston, MA, USA |
| 17th HIPS 2012 | May 21, 2012 | Shanghai, China |
| 16th HIPS 2011 | May 20, 2011 | Anchorage, Alaska, USA |
| 15th HIPS 2010 | April 19-23, 2010 | Atlanta, GA, USA |
| 14th HIPS 2009 | May 25, 2009 | Rome, Italy |
| 13th HIPS 2008 | April 14, 2008 | Miami, FL, USA |
| 12th HIPS 2007 | March 26, 2007 | Long Beach, California, USA |
| 11th HIPS 2006 | April 25, 2006 | Rhodes Island, Greece |
| 10th HIPS 2005 | April 4, 2005 | Denver, Colorado, USA |
| 9th HIPS 2004 | April 26, 2004 | Santa Fe, New Mexico, USA |
| 8th HIPS 2003 | April 22, 2003 | Nice, France |
| 7th HIPS 2002 | April 15, 2002 | Fort Lauderdale, FL, USA |
| 6th HIPS 2001 | April 23, 2001 | San Francisco, CA, USA |
| 5th HIPS 2000 | May 1, 2000 | Cancun, Mexico |
| 4th HIPS 1999 | April 12, 1999 | San Juan, Puerto Rico, USA |
| 3rd HIPS 1998 | March 30, 1998 | Orlando, FL, USA |
| 2nd HIPS 1997 | April 1, 1997 | Geneva, Switzerland |
| 1st HIPS 1996 | April 16, 1996 | Honolulu, HI, USA |